THE BELOW KITTENS HAVE GONE TO THEIR NEW HOMES
BUT WILL FOREVER BE IN OUR HEARTS!!!
Click photos for a larger view!
This blue bicolor male, Gandalf, is now living with Rev. Ed and company at the Rectory at Our Lady of Lourdes RCC. We miss him so very much! Look how Gandalf has changed!!!

Blue Bicolor female, Jasmine, has gone to live with Alicia. Jasmine is just such an absolute sweetheart! Just look at that sweet face!!! In this photo above, I was sitting on the floor playing with this little doll when she crawled up on my lap…so adorable! We miss this precious little gem…she was so special to us!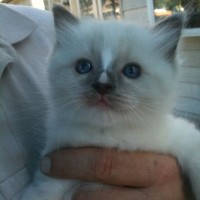 This blue mitted male (with a Blaze), Chase, has gone on to live with this sister, Jasmine, with Alicia. Chase is going to be a BIG, BIG boy
We miss this big, wonderful, boy!!!

This beautiful blue bicolor male, Bailey, is now living with Jen! He is such a sweet boy, and we miss him dearly! This is a new picture of Bailey, what a handsome boy he turned out to be.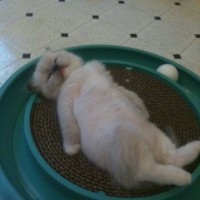 Blue Mitted Male (LuveleeDolls Paddington) now lives with Marie. We miss Padds (as we affectionately called him) so very, very much, but he's in a wonderful home, receiving the attention and love this baby boy so deserves!!! We interviewed a few people who were just crazy about this absolutely wonderful, wonderful boy, and wanted him but we could just never give him up to just anyone. We'd only allow him to be placed in a home where we knew he'd be the King…and we finally found that with Marie, so thank you Marie for giving our precious Padds a wonderful new life!!! I absolutely cried my eyes out for many days after deciding to re-home this boy…Padds was our absolute favorite kittie of all, and we miss him dearly, but we know in our hearts that he's being loved and spoiled in his new home!!! WE LOVE YOU PADDS AND WILL MISS YOU FOREVER!!!!!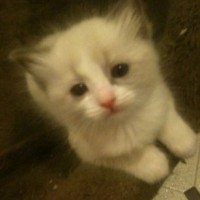 Blue Bi Color Female ( Ci-Ci) now lives with Jody and his family. What a sweetie pie!!!

Blue Mitted Male (Koda) now lives with Dana and Kenny. This little boy, at just one week of age, would kiss my face whenever I'd pick him up out of the birthing box and hold him…what a precious little boy!!! I always called him "Paddington Jr." because of his extraordinary personality! Thank you Dana for sending us photos and for loving this little prince. We miss him dearly!!!!! Look at that little cutie!!!!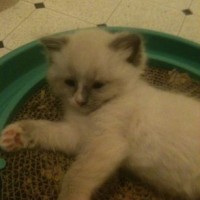 Blue Mitted Female with Blaze (Ann) now lives with Delia and her family (and their previous Ragdoll, Andy). Ann is certainly keeping Delia busy with her energy :-))) She's full of energy, but is just such a sweetheart, and always purrs when you pet her!

Blue Bi Color Male ( Enzo) now lives with Glorianne and her family. What can I say? Look at this precious little boy sleeping in a napkin holder…LOL!!! How adorable! When Enzo's new family took him to be checked by their vet for the first time, the staff at the Mahopac Animal Hospital loved Enzo so much that they made him their "Pet of the Week" on their Facebook page! You can Google Mahopac's Facebook page and see Enzo's photo! Thank you Glorianne for sending me updated photos of this baby boy!!!

Blue Mitted Male with Blaze (Cosmo) now lives with Joanne and her family. Just look at this boy…what a sweetie! He is just a little spit fire…just a burst of energy…LOL. Whenever I'd open up the door to the kitten room, this guy would come bursting out every time…he'd be the first one out…LOL. So, so very sweet though!!! I'm so happy Cosmo has a wonderful new home with Joanne and her family, which includes two young boys, to keep Cosmo very busy…it was just the perfect match! Thanks Joanne for the updates on Cosmo and for loving him and giving him an awesome new home!!!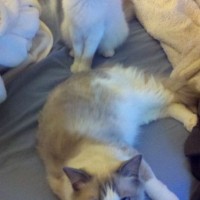 Both Blue Bi Color Males ( Gatsby and Huxley) now living with Christine and her family. Thanks to Christine on the update of this 2 great boys, it is such a pleasure to hear that they are doing great together and for giving them a great home.