Welcome to our home! Pictured below are photos of our two Ragdoll ALTERS, Skye and Luna. Our love for both of these Ragdolls is what inspired us to start a breeding program of our own. We are a very small cattery, and produce only a few litters per year, so that we can give our babies the love and individual attention which they so deserve!
BELOW ARE OUR RAGDOLL ALTERS
SKYE
Blue Point Mitted
This is our Ragdoll alter, Skye. We purchased Skye (and his sister, Luna, from a local breeder). Skye's temperment unfortunately was very nasty and aggressive. We only wish that we would have taken the time to attend a couple of cat shows and meet various breeders, and see how the Ragdolls behaved in the show rings, prior to deciding on what breeder to go to! A Ragdoll should never be aggressive or nasty in any way…this is NOT normal Ragdoll behavior! Also, due to our experience with Skye, we always recommend to people to ask the breeder you choose to deal with to see and interact with BOTH parents of the kitten prior to purchasing to make sure that they are not aggressive in any way! We are very sorry that we did not do that!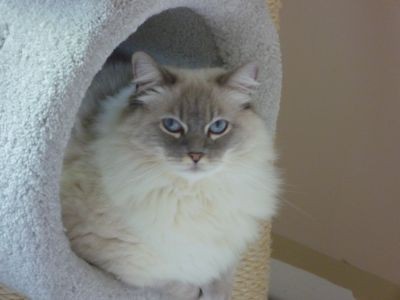 LUNA
Blue Lynx Colorpoint
Skye's sister, Luna, is a wonderful Ragdoll.  She follows me around the whole house, sits next to us on the couch every night, and although she's a bit shy around people she doesn't know, she just loves attention!  She's my little baby girl, and we absolutely adore her very much!  She sleeps with us in our bed nearly every night, and she loves us playing with her and her toys! It is our undying love for both Skye and Luna, and the Ragdoll breed in general, that we decided to start a very small breeding program of our own to produce the healthiest and friendliest Ragdolls!
If you are looking to purchase a Ragdoll, please take the time to research a breeder, go to their cattery and see their cats, see the parents of the kitten that you are interested in, and make sure that the breeder will stand behind the kitten/cat he or she sells to you.  If you are at all uncomfortable with a particular breeder, then please go to a different one!  Owning a Ragdoll is a long committment to make, and it is very important that you feel comfortable with the breeder that you choose.  We feel that a breeder should be willing to take back a kitten/cat at any time if the purchaser is unable to keep it for any reason. This should be stated in the breeder's contract that both you and he/she will sign before taking your little baby(ies) home!
Update: We have re-homed both Skye and Luna on New Years Eve to our cousin who came to our home for our New Years Eve party, and he was telling us how his cat had just passed away two days before Christmas, and how devastated he was over the loss! We offered him Skye and Luna to keep him company, and we're so very happy he took us up on our offer!!! We're so very happy we were able to place these cats in a very loving home with someone that we know will take great care of them and give them both the love and attention they so deserve! We will always miss these two beautiful cats and they will FOREVER be in our hearts!!!!!